In the current strategy, all invited women are treated the same. But women are not all the same: each woman has her own individual risk of developing breast cancer, depending on many factors like genetic factors, lifestyle, or hormonal exposure.
MyPeBS is a European research project that aims to assess the effectiveness and feasibility of personalised breast cancer screening, one that is based on the personal risk of developing breast cancer for each individual woman.
To meet such a goal, at MyPeBS's core is a multi-centre, international, randomised clinical study that will recruit 85,000 women from Belgium, France, Israel, Italy and the United Kingdom.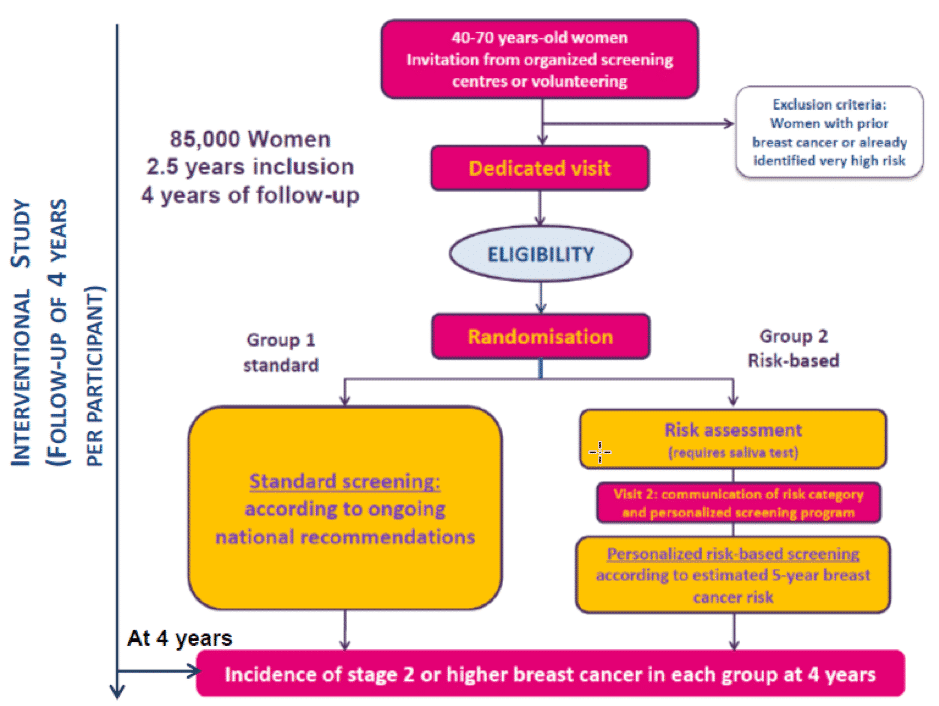 This study will compare the current standard breast screening with a personalised strategy, which screens women at higher risk of breast cancer more often, and women at a lower risk of breast cancer less often.
The goal of this study is to answer a simple, yet fundamental, question: is it better to personalise the method and frequency of breast screening based on a woman's individual risk?
This randomised controlled study will compare two groups of women: a group who will follow the current standard breast screening, to a group who will follow a personalised risk-based screening strategy, which will require a saliva test and an extra visit as compared to the Standard group.
As the personal experience of women is central to the study, MyPeBS will investigate whether the personalised approach is more acceptable, paying close attention to the potential extra worry for women that may be caused by knowing their individual breast cancer risk.
The project will also evaluate if the economic resources used with a personalised screening strategy justify the results obtained.
Finally, after the results of the study are known, MyPeBS will propose general recommendations for more effective breast cancer screening in Europe.